In 2013, the first compact proton therapy system, the MEVION S250, began to treat cancer patients in St. Louis, MO. In June 2019, the same proton therapy center became the first institution with two Mevion proton therapy systems installed side by side. There are plenty of multi-room proton systems in the world, but what makes this one unique is the 6-year gap between each system deployment.

Forward-thinking planning
Up until 2013, all proton centers were multi-room centers with three or more treatment rooms connected to a single 220 ton, 20ft diameter cyclotron. The construction of these multi-room centers had to be completed simultaneously, and beam-lines needed to transport protons from the accelerator to multiple treatment rooms must be built on the same foundation. Constructing a second or a third treatment room later, each with its own concrete floor, was not possible. Even small shifts in their relative positions would affect the beam's quality at the very least. This structure comes with tremendous cost, sometimes skyrocketing into the 100's of millions of dollars.
The addition of a proton therapy center is an incredible enhancement to a center's robust cancer service line, but a multi-room center could also incur a financial and patient volume burden needed to fill each of those rooms. Clinically and financially, for many centers, it just doesn't make sense.
Mevion approached this challenge with a groundbreaking idea:
A true single-room proton system housing the treatment room, 17-ton superconducting cyclotron on a rotating gantry, and all of the supportive equipment into a singular, self-contained bunker.
That was some serious in-the-box thinking. But what if a single-room center doesn't provide enough capacity to meet the needs of their patients? Or what if a health system's patients are located over a wide geographical area? And as with the first center in St. Louis, the center decided to build two side-by-side proton vaults and only initially install one system.
But why wait to install the second system?
The earliest proton therapy centers all had three or more treatment rooms connected to the same cyclotron. Almost all these centers have failed to make full use of their capacity. Many centers have struggled and continue to struggle with the financial burden this sizable initial investment has put on the project. In short, in proton therapy, it is unwise to push an organization toward financial stress. Actual patient volume needs and program growth should drive financials, not the other way around. Mevion's compact systems have made it easier to plan and add more rooms later at a reduced facility cost.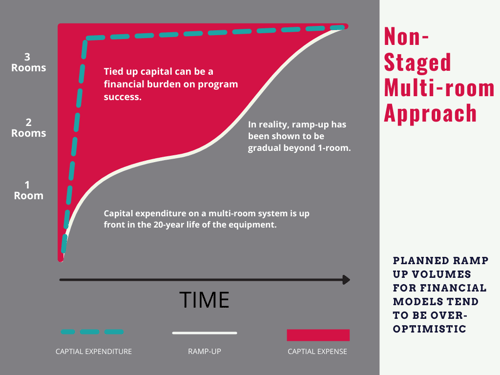 There are many reasons why treatment rooms should be added at the time they are needed:
Reduce financial risk

. Bunkers and beam-lines are built several years before they start generating revenue. Adding unneeded financial burdens and risks to a project has never made sense.

It takes time to ramp up patient numbers

. Expertise needs to be built, people hired, internal patients selected, and external patients referred. In practice, it is not uncommon for organizations requiring more than two to three years before they can even consider expanding opening hours beyond what is typical for the department.

Prior experience helps

. Both the building, installation time, commissioning, and the ramp-up phase will be considerably shorter for a second treatment room when the organization is experienced and up to speed — both of which also have considerable financial benefits.

Finally, more capacity may, in the end, not be needed

. Or perhaps it does, but not at the same location. A second system installation allows increased access to proton therapy by adding a second center in a new area.
While St. Louis is the first center with two Mevion systems, several other sites have followed this approach, having planned a second room at the time of the first to accommodate expansion as needed.
Minimized Technology Risks
The first compact system, the MEVION S250, has treated hundreds of patients with a wide range of cancers, including brain, CNS, breast, head and neck, and lung. The center also supports the local pediatric hospital.
When a strategic decision is made to expand the capacity of a proton center, the clinical and leadership teams must ensure they have the latest technological advancements and applications that can increase the clinical benefits of proton therapy even further. In the six years since its first system, Mevion's proton delivery technology had advanced with the introduction of HYPERSCAN Pencil Beam Scanning.
Paired with the industry's only proton multi-leaf collimator, Adaptive Aperture pMLC, ensures that the newest addition would include the most cutting-edge proton technology. The open-architecture platform of the MEVION S250i is combined with natively integrated imaging, positioning, and motion management tools that best suit each centers workflow and minimizes any technology obsolescence. Our prime focus is providing our customers with the tools they need to give their patients the best treatment – when they need it.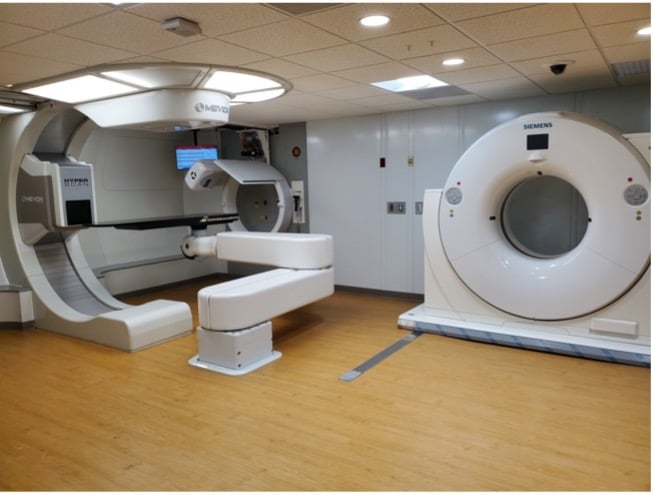 Mevion is the only vendor offering a truly modular room-by-room expansion option. No matter what the situation is — from needing one, two, or three rooms from the start, to wanting to wait for the optimal moment or even optimal location for expansion — Mevion will provided you with the most cost-effective and lowest-risk solution.
Want to learn more? Click here to learn how to build a proton therapy center.
Check out our other posts in the Mev-Ionosphere blog today for more proton therapy updates, and don't forget to sign up for our upcoming virtual events.